If you want to start a paper cup making business? then this article is for you. Here I have a detailed project guide on how to start a paper cup making business with project cost, machines, required materials, and profit margin.
Paper cups are disposable cups made up of paper and lined with wax or plastic to keep liquid from soaking the paper. Paper cups are made using food-grade paper, which is hygienic and capable of storing both hot and cold liquid for long times. With the rising awareness and rapidly changing lifestyles, the demand for paper cups has increased colossally year on year.
If you are thinking to start your business, then the paper glass business is a good choice for you. The manufacturing of paper cups or glass is also eco-friendly and it helps the environment as well.
Also, paper cups can be disposed but plastic cups and glasses cannot be destroyed. Which are also harmful to the environment and health as well as.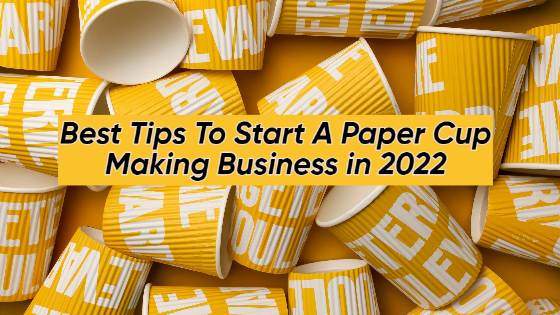 How do I

start

a paper cup business?
If you are interested in the paper cup making business then you should understand how this industry works and how you can make difference from your efforts and understanding. Every business requires investment, planning & self-discipline to achieve success.
The following are a few steps to successfully start your paper cup plant.
Analyzing the market

Who is your potential customer?

Think about the investment

Planning & Execution
#1. Market Potential of Paper Cup Making Business
As you know pollution keeps increasing and plastic has been banned by the Indian and world governments as well. Due to that many small and big plastic product-making industries are switching to paper-based products.
Along with the quick-changing lifestyles, Paper cups are highly used in tea shops, coffee shops, hotels, stores, educational institutions, food canteens, as well as in wedding parties. The demand for paper plates and cups is increasing quickly.
Also, this paper cup looks beautiful with different types of designs and doesn't cause harm to the environment because of its eco-friendly nature.
After considering these elements, we can see that starting a small paper cup making business is highly profitable.
#2. Planning For Paper Cup Making Business
Before starting any business, it is important to plan for its success. A well-written plan act as the roadmap for your business.
It should be prepared for all the investments made in the business, for example, an initial investment of machinery, area rent, raw material, costs on workers, costs of the marketing of the business, etc. In this way, everything is good to go starting a business.
#3. Paper Cup Making Business Cost (Investment)
In Paper cup making business investment can be divided into two categories: fixed investment and variable investment.
The fixed investment includes buying the machines, building infrastructure, initial raw materials, etc. On the other hand, running materials, labor salary, transport cost, electricity, and water bill falls into the second category.
Material Expense:
Location rent: Rs 15,000 – 20,000

Cost of a fully-automatic machine: Rs. 5, 50,000

Cost of a semi-automatic machine: Rs 1, 25,000

Worker expenditure: Rs 20,000

PE covered reels: Rs 90 / ton

Packing Material: Rs 175 /kilogram

Electricity and water
Apart from this, there are different other expenses as well such as maintenance bills, transportation costs, stores, etc.
Also, you will require some employees to start your paper cup making business unit. This business can also be carried out with just three persons, which may include a production manager, a talented, and an untalented worker.
#4. Paper Cup Making Raw Material
In making paper cups, raw materials such as printed rolls as well as food-grade or Polly-covered paper are used, so that if kept cold or hot in the paper cup, the cup can be handily gotten.
Raw Materials List:
Printed Paper

Bottom Reel

Paper Reel

Packaging Material
You can purchase raw materials from the nearby market and online markets too. For purchasing raw materials of paper cups online, you can see this link-
#5. Required Machinery and Its Costs in India
Two kinds of machines are used for the production of paper glass, fully automatic machines and the other is semi-automatic machines.
But if you are thinking to start a paper cup making business then I suggest you purchase the fully automatic machine as it has low labor supply requirements and high production capacity.
1) Fully-Automatic Machine: A fully automatic machine can which can manufacture 45 – 60 cups/min of 45ml to 330 ml cup sizes and it costs roughly 6.5 lakhs. It works on poly side-covered paper with an energy requirement of 3.5 kW.
2) Semi-Automatic Machine: semi-automatic machine can manufacture about 25-35 paper cups per minute with the help of labor. It can cost roughly 1.25 lakh in the Indian market.
Also, with various types of shapes, this machine can manufacture ice-cream cups, coffee cups, and juice glasses in many sizes as well.
An automatic or semi-automatic paper cup making machine can be purchased from various sites in India. And the price of the machine may vary from different companies. Here are a few sites that offer great paper cup making machines – indiamart.com
#6. License & Registration for Paper Cup Making Business
Starting this type of small business doesn't need too much documentation but to keep your firm protected you must do some paperwork beforehand. It will also avoid any unfavorable conditions. To register a business as a sole proprietorship company and to operate the business, it is necessary to obtain a legal license.
For this, contact the nearby authority of the place where you are going to do the business, and then complete all the other legal formalities.
Company Registration

Trade License

GST Registration

BIS Registration

Apply for Business Pan Card
If you want to keep the supply of diesel generators as an option for power supply, then you need to get special permission from the local district authority.
#7. Area Required for Paper Cup Business
Starting a paper cup making business requires at least 500 to 700 square feet of area.
You can start this business with an electricity connection in 500 – 700 square feet of space. If your house is big and there is a lot of free space in your house, then you can start this business from home as well.
Also, you should keep about 100 square feet area for packaging and other small things like the usefulness of machines, loading, unloading of materials, etc.
#8. Paper Cup Making Process
To start a paper cup making business you should understand its making process. The paper cup making business is very simple and easy to understand. Here is the process:
Paper glass is made in four stages:
In the first stage, The machine cut the poly-covered paper according to the shape of the paper cups then it is applied in the slightly wet machine then its round cone is framed.
In the second stage, a round of paper appears under the cone.
After that, in the third stage, paper cups are gathered in one place after the process of testing.
Fourth stage: All produced paper cups go for the packaging and then they will transport to their finalized destination.
You can do the packing and count through a fully automatic machine. But if you are using a semi-automatic machine, then the counting of the cups will also function manually. in the long plastic prepared according to the size of the cup manually through labor.
#9. Apply For Loan for Paper Cup Making Business
Loans can also be obtained from the bank for startup businesses under various schemes and plans. Under the Mudra Loan Scheme, MSME schemes, loans up to Rs 10 lakh can be easily availed from various banks or financial institutions without any capital as insurance.
#10. Marketing & Selling Your Paper Cups
For selling your paper cups, you can target small whole-sellers, coffee, tea shops, stores, etc. Your local market would be the best opportunity to sell your products.
Apart from that if you are capable of investing in advertisement then you can advertise your product through TV channels, newspapers, banners, social media, etc. Also, you can register on B2C and B2C sites to directly sell your paper cups online.
List of B2C Sites:
Amazon

Flipkart

Shopclues
You can register on these sites and directly avail the benefit of these sites.
List of B2B Sites:
Alibaba

IndiaMart

TradeIndia
You can grab the opportunity of B2B sites to sell your products online.
The advertising of the business is also very popular on the internet and on social media platforms like Facebook, Twitter, and Instagram.
#11. Business Profit Margin (ROI)
The cost of a paper cup depends on its texture, size, and quality. For example, if you make a printed paper cup of 100 ml, one bundle can cost up to Rs 25 which you can sell in the market as Rs. 28 per packet.
The manufacturing cost of one packet of paper cups is about Rs 15. If you make a plain paper cup without any design. The market price of plain paper cups is approximately Rs 25 per pack.
Most Frequently Asked Questions (FAQ):
How much does it cost to make a paper cup?


Different paper glass-making machines are being used to make these paper cups. The cost of making a paper cup depends on a few elements like cup bottom, equipment maintenance, packaging material, wash and cut, printing, etc.
Is Paper Cup Making Business Profitable?


Different factors decide the profitability of a paper cup business. Competition, skill, demand, availability of devices, cost, and a proper plan are some of the most affecting factors that you should consider. If you are good at almost all aspects, then you can proceed with this business.
Where to buy raw materials for paper cups?




Many suppliers supply raw materials for paper cups. However, you need to check the quality of the materials before buying.
Conclusion:
Starting a paper manufacturing business is certainly a profitable investment. And the demand for paper cups is increasing after the government banned the use of plastic. So, I highly recommend you to start this business.
Here, I have given you a detailed guide on how you can easily establish a paper-making plant. I wish you the best of luck with your first startup.